Nikls "One CALL" provides Property Managers with a complete range of plumbing services, including services and solutions specifically tailored to your needs as a commercial or strata Property Manager.
General Plumbing Services
Plumbing Repairs and Maintenance
In addition to our specialty plumbing services, we are ready to take care of your common everyday plumbing needs. We specialize in troubleshooting problems and sourcing difficult to find parts for commercial plumbing systems.
You can count on us for leak investigation, hot water tank replacement, and repairs to hosebibs, faucets, sinks and toilets.
And when you need multi-trade repairs such as a broken water main, we bring you a single solution complete with excavation, plumbing, and repaving.
Drainage and Water Main Repair
Call Nikls One Call for your large and small plumbing repairs, including drainage and water main repairs. Here is an example of what we can help you with:
Drainage Repair: Step 1 – Excavation
Most plumbing repairs do not require excavation, but burst water mains and collapsed drains do. After initial assessment and determination that excavation is the only option for repair, we put a plan together for excavation which includes:
Arborist / municipality consultation if excavation will damage a tree (tree roots are a key cause of drainage damage)
Utility location; ensuring the excavation area is safe and free from underground gas, electrical, and other utility lines.
Cordoning off a safe work area
Site details. Understanding depth of excavation, water table height, and seasonal weather conditions are all important factors to consider for executing an efficient dig.
Drainage Repair: Step 2 – Repair and Assessment
Once the line has been excavated, we can assess the full extent of the problem and adjust the repair scope if necessary. Once the repairs are completed, we ensure all the details are taken care of before closing up the excavation. These can include:
Pressure or leak testing the repair
Reinstalling building electrical ground connects
Installing thrust blocks or line supports
Once everything has been tested and other details checked, we can proceed to fill the excavation.
Drainage Repair: Step 3 – Surface Repairs
Once the plumbing repair is complete, the excavation is:
Back-filled and compacted
Asphalt and concrete is repaired
Landscape areas are leveled
All refuse, unusable soil, etc is removed from site and taken for proper disposal
Many property maintenance and repair jobs require a wide variety of trades and disciplines to complete.
Nikls "One Call" Property Services will provide you with a complete multi-trade solution, carried out by our dedicated team of experienced trades professionals.
Commercial Boiler Installation
With Nikls One Call, more complicated multi-trade installations require just one call. We will assemble our team to complete your project on time and on budget. Here is an example of a more complex boiler installation:
Commercial Boiler Install: Step 1 – Setup and Prep Work
While most boiler installations are simpler than this, sometimes the existing infrastructure requires a little more planning and equipment than you would normally require. For this project:
An engineering plan is produced
New boiler and supporting parts ordered
Lane closure and installation preparations are done
Heavy equipment is brought in for the installation
Commercial Boiler Install: Step 2 – Lift and Placement
For this installation, accessing the mechanical room was a significant challenge. An 80 ton crane capable of lifting the boiler when extended to a 150 foot reach is needed.
Old boiler tear down and removal with crane
New boiler lifted to the roof top mechanical room
Commercial Boiler Install: Step 3 – Final Installation
The new boiler is installed with all supporting equipment:
Placement in mechanical room
Services connections are re-routed to fit
Testing and final commissioning
Specialty Plumbing Services and Capabilities
Backflow Preventers and System Upgrades
For commercial and multi-tenant residential properties, upgrades of your existing plumbing to provide additional backflow preventers or shut-off valves may sometimes be required by municipal inspectors. We will work with you and city officials to find the best solutions to bring your property into compliance with inspection surveys.
This may require re-configuring your current piping to fit in a new component, adding appropriate drainage, or taking a fixture offline so it no longer presents risk to the municipal water system.
In addition, we can perform annual testing of all your plumbing cross-connection devices and submit the proper paperwork to the city.
Line Freezing to Isolate Plumbing Problems
Line freezing can save your tenants the inconvenience of a building water shutdown.
Instead of shutting down the water to your entire building, sometimes a line can be isolated for repair utilizing a portable line freezing machine. The line freezer creates a temporary shut-off valve by freezing the water inside a short section of your piping. Once the repair is completed, the line is allowed to thaw and water service to that section of piping can resume as normal.
Camera Inspection and Line Tracing
Difficult or reoccurring drain blockages sometimes require a detailed assessment to identify the exact location and cause of the blockage. Our plumbers carry colour drain video cameras as standard equipment. This allows us to make accurate assessments to prescribe the right solution so more costly and invasive exploratory procedures such as excavation can be avoided.
We can also conduct detailed line tracing to determine where pipes lead to when blueprints or site drawings are not available. This pinpoints the exact location of the piping that needs repair and also helps in diagnosing more complex problems.
Confined Space Entry
Our technicians are certified to perform work in confined spaces.
Nikls "One CALL" is fully equipped and experienced in handling confined space repairs such as a leaking pipe or incapacitated pump in a deep pit or crawlspace.
Our team identifies and mitigates hazards, and follows all confined space entry procedures with documented permits and paperwork. And we are fully equipped and ready to go with gas detectors, fresh air ventilation, extraction equipment, and trained personnel when you have a confined space repair emergency.
Flood Restoration
Depending on the scope and severity of a flood, often a simple mop up is all that's needed. For more serious flood or leak damage, you may need professional remediation by our certified technicians for water, mold, or sewage. For restoration services you get detailed loss reporting for your insurance adjusters, and an experienced team that tackles cleanup quickly and effectively.
And if walls or flooring are damaged to the point of requiring repair or replacement, we can do that too.
Shutoff Labelling and Mapping
Where are the gas and water shut offs located on your property? And do you have the tools to close those valves in an emergency? We have a simple 3 step service to make sure you are prepared in case of an emergency.
Locate your valves. We locate all your domestic water supply, fire system supply, and gas supply line valves and mark all valve caps with colour coded marking paint to make them more visible and identifiable. We also ensure all the valves are in working order and not faulty or seized.
Document via map. Inside your building's mechanical room, we mount a map of your property showing the location of each shut off valve on the property.
Supply shut off keys. With the map, we also supply you with the correct valve keys to open and close the shut off valves that supply your city water, fire system, and gas so they can be closed quickly in the event of an emergency.
Tenant Restaurant Compliance Inspection
Your building's safety, integrity, and operation can be compromised by problems that arise from lack of maintenance by certain tenants. Your restaurant tenants have systems that can directly affect the common areas of your building. We can perform a compliance inspection of your restaurant tenants that touches on 4 key items:
Grease traps. Without regular cleaning, restaurant grease traps can case blockages in main drain lines and flooding in multiple tenant spaces. We perform a camera inspection of the drains.
Roof exhausts. When rooftop exhaust hood fans are not serviced, grease spills out onto the roof and can erode roof membranes and create a potential fire hazard to the building. We inspect these rooftop units and document the surrounding areas.
Backflow preventers. Are required to be tested annually and serviced if not operating properly. We check that all BFP inspections are up to date.
Kitchen fire suppression. These systems are also required to be inspected annually and serviced as needed. We ensure that all inspections are in compliance and safety systems have been properly tagged.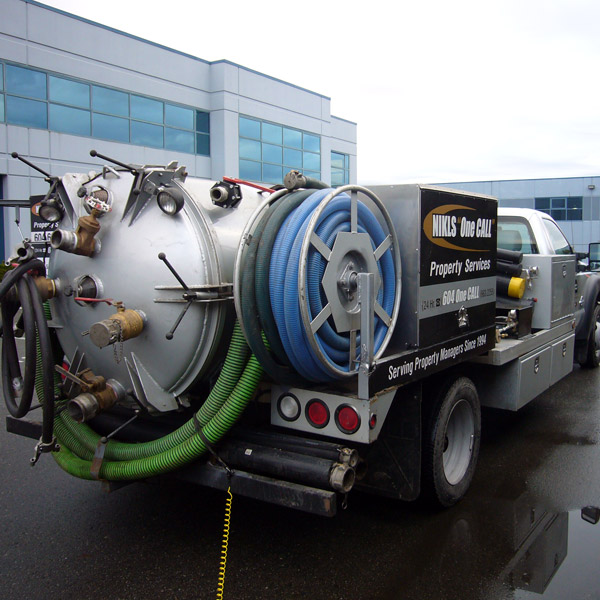 Pump Truck Service
Learn more about our pump truck services which include:
Annual catch basin cleaning
Hydro-flushing heavily blocked drains
Multi-story building plumbing stack cleaning
Our "lowboy" pump truck was specially built to access underground parking garages to service your residential and commercial towers.
Preventative Maintenance
Ask us about preventative maintenance for your commercial and strata buildings. Every property has it's own challenges and regular maintenance of your plumbing and drainage systems helps prevent costly issues from popping up suddenly.