Stainless Steel Corner Guards
We manufacture our own stainless steel corner guards. Our unique design includes beveled edges along the entire length, allowing for a tight, no-snag fit. This also helps the corner guard fitting if the walls are not perfectly plumb.
Installing corner guards at elevator entrances or along hallway corners will both prevent future damage and cover existing damage. This cuts your overall cost of repair and adds protection against future problems.
SS corner guards come in standard lengths for various applications which include 4, 6, and 8 foot heights. The standard width is 2 x 2 inches
We can also fabricate custom lengths including small guards to protect protruding baseboards. Some custom widths that are popular include 3 x 3 inches or 4 x 4 inches for drywall applications
Heavy Duty Steel and Aluminum Guards
In addition to our standard wall guards, we custom manufacture heavy duty guards to protect concrete and brick pillars and corners. They can be installed in parkades, loading bay areas, building corners, soffit supports, and any other area prone to damage by vehicles.
Many options are available including safety yellow painting, black and yellow diagonal caution stripes, and reflective stickers.
Our standard aluminum checker plate guards come in 4 or 8 feet heights, with a 4 x 4 inch width
Steel guards are custom manufactured for each application so a wide diversity of sizes and shapes can be constructed.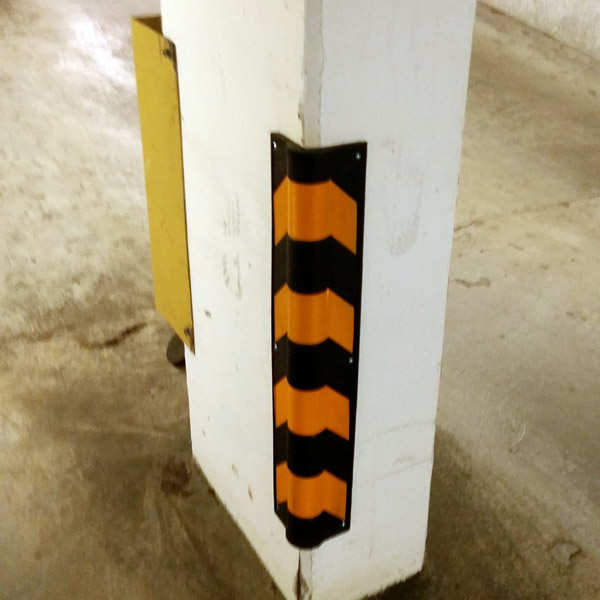 Rubber Bumper Corner Guards
Another good option, especially in underground parkades where you want to minimize damage to both the corner and the vehicle is to install rubber corner guards. They are black with molded-in yellow reflective stripes and can be installed with concrete anchors or other appropriate hardware.
The reflective striping provides a strong visual contrast for drivers, enabling better visibility of corners in low lighting.
They are constructed entirely from recycled rubber and molded into form so sizing is standardized:
Rounded edge corner guards are 31 inches high with a width of 4.75 x 4.75 inches
Square edge rubber corner guards are 31 inches high and 4 x 4 inches wide.