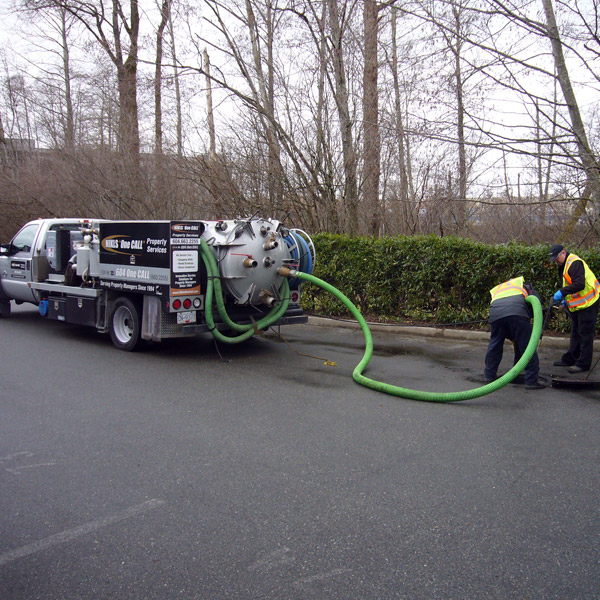 Great service comes from having the right tools to get the job done … our pump truck has been custom designed, built, and outfitted to take care of the tough challenges.
With air-ride suspension lowering the pump truck height to just 76″, we can access underground parkades to pump out catch basins and clean blocked drains.
Our 300 gallon on-board fresh water tank is ready for hydro flushing anywhere.
The 3000 psi, 20 gpm hydro-jetter gets through the toughest blockages of tree roots, grease, and debris.
Call Nikls One Call today for catch basin cleaning, hydro-jetting to remove tough blockages in building mainline drains, flooded parking lots, parkade horizontal drain cleaning, and high rise kitchen & washroom stack cleaning.
Annual Catch Basin Cleaning
Catch basin cleaning is a critical part of regular property maintenance.
Catch basins hold all the debris that is washed down by rain water and snow melt, keeping your drain lines free of debris. Over time, the debris builds up and needs to be pumped out and taken away for disposal before it accumulates to the point where it blocks the drain.
It is generally recommended to pump out your catch basins annually. If you have circumstances where your property gets an excessive amount of leaves, silt, or debris from ongoing construction, service can also be increased to clean the catch basins more often.
Most properties conduct catch basin cleaning in the fall time. This timing ensures your drain system is operating at peak performance to handle the rainy season, winter snow, and spring melt.
Drainage Main Line Hydro Flushing
If the drain lines become blocked, they can cause parking lot flooding and will need to be hydro-flushed to clear away the debris inside the line.
In addition to catch basins, commercial and residential strata properties may also have trough drains and sump pump pits that also need to be cleaned.
Trough drains are shallow, and usually at the bottom of a ramp, so they can accumulate debris that's washed down more quickly than catch basins. Sump pump basins are also more vulnerable than regular catch basins as an excess of silt and debris can damage pumps or otherwise disable them.
Flooded Parking Lot Emergency Service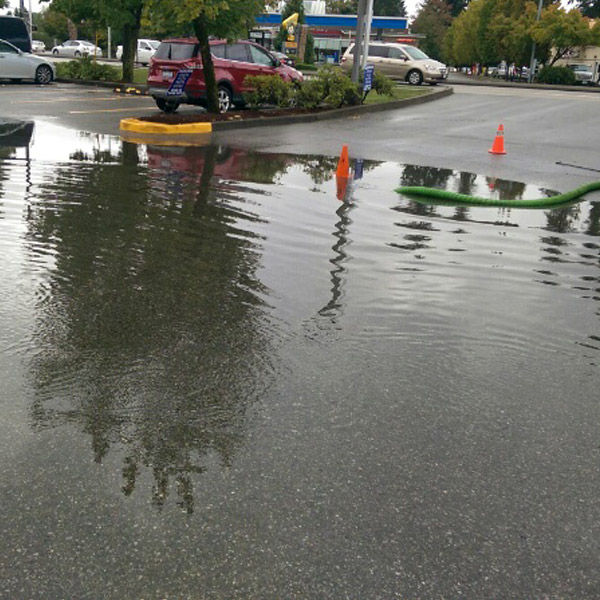 Parking lot flooding can occur for different reasons. Sometimes, flash flooding during heavy rain downpours will overwhelm drainage systems. Sometimes waiting for the rain to stop or slow down, then monitoring the flood area will tell you if your drainage system is blocked or just slower than the source of water during a heavy downpour.
There are a number of actions we can take to alleviate these problems:
Block off the flooded areas to make safe until the problem can be resolved
Pump out the flooded areas
Hydro-jet to remove blockages
Repair broken drainage lines
Service sump pumps
Evaluate your drainage system and make recommendations
Parkade Horizontal Drain Line Flushing
Horizontal drain cleaning is typically done for single story or low-rise (2 to 3 story) commercial or residential buildings, especially when they have an underground parkade. This is especially important for commercial properties that have an abundance of restaurants or food service businesses.
Over time (5 to 10 years) grease will buildup inside the horizontal drain lines running under the building, or that hang from the ceiling inside an underground parking garage. This can lead to constant and difficult to remove blockages. And snaking the line will only temporarily push a hole through the grease – it needs to be hydro-jetted out.
We install clean-out accesses to any lines that do not have clean-outs installed. We then use our pump truck to hydro-jet and vacuum each line at the same time. This allows us to thoroughly clean your drain lines and completely remove the grease and debris.
Kitchen and Bathroom Stack Cleaning
Our system for cleaning multi-level building drains ensures:
Minimal disruption to owners & tenants by mostly only requiring access to common areas and a few isolated parking stalls in underground garages.
Preventing the risk of flooding.
The most thorough and long-lasting cleaning of drains possible that returns drain systems to their as-new condition verified by drain camera.
The most common causes of blocked drain stacks are grease, hair, and sticky foods such as rice. All of these waste materials stick to the walls of drain piping, building up over time and eventually blocking the drain.
Conventional drain cleaning utilizing top-down augering can not remove these blockages effectively. This method only pushes a hole through the center of the blockage without removing the waste built up along the drain pipe walls.
To clean building stacks effectively …
We conduct a site survey to identify all your horizontal drains, the areas we require access to, and to put together a specific plan for your building. Following the survey, you will receive a final quote and plan of action. Upon approval, we begin
The piping will be opened and connected to our pump truck and on-board hydro-flusher in the parkade. This ensures the waste is completely removed and not sent further into your drain system where it can cause blockages further down the line.
The hydro-flusher with a drain cleaning head is run through the line, thoroughly removing all waste from the drain pipe walls which gets vacuumed into our pump truck. Working this way ensures we do not create blockages that can cause flooding. If there is a problem in the stack or in a particular unit, localized flushing from the unit can be done afterwards, but 99% of these kinds of problems originate from waste build-up in the horizontal lines.
The same process (steps 2 to 3) is repeated for each horizontal branch that leads to a stack or main drain. The result is a long lasting cleaning of your drain pipes with minimal disruption to owners & tenants