Your doors and windows must provide both security and accessibility to your property at any given moment. When they're not functioning, they need to be repaired right away, even though most doors and windows need to be custom ordered. We've seen just about everything and can make sure your property is secure and accessible following an emergency until final repairs can be completed.
Door Repairs, Replacement, and Security Upgrades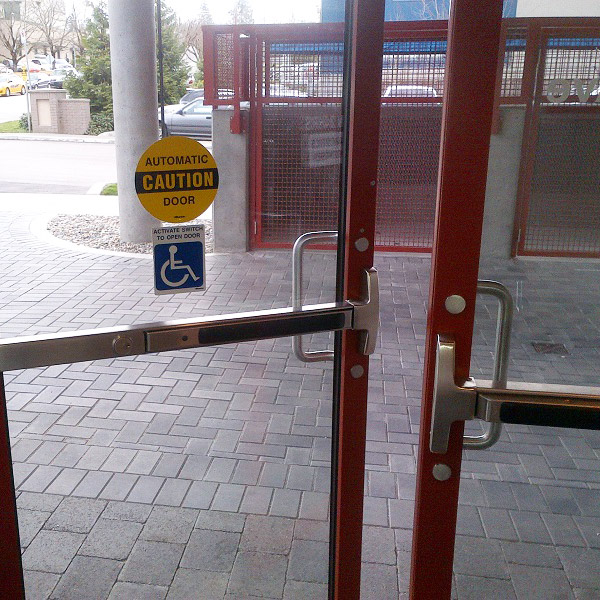 Automatic Doors
Our door technicians are ANSI certified to properly assess and repair your automatic handicap accessible doors. We will make sure your door is operating properly and is setup to meet safe operation requirements for accessible doors.
Handicap door operator repairs and new installs
Electric strike, electrified hardware, and maglock repairs
Sliding doors, push buttons, guard rails
Wood Doors
Call us to repair or replace your residential and commercial wood doors. No matter what problem you're having, we're sure we've seen it before and have the right solution.
Adding mail slots, kick plates, and door sweeps
Door and frame adjustment, hinge replacement
Custom sizing and finishes, fire rated doors
Door hardening and security upgrades
General locksmithing
Steel Commercial Doors
Interior and exterior steel doors for commercial buildings. We repair or replace doors and frames for electrical or mechanical rooms, parkades, stairwells, hallways, and entrances. And we can provide you with a variety if options.
Adding kick plates, window kits, and door sweeps
Door and frame adjustment, NRP hinges, door closers
Commercial door pivots and continuous hinges
Custom sizing and finishes, fire rated doors
Door hardening and security upgrades
Glass and Aluminum Storefront Repairs
Emergency Glass Repair and Replacement
Nikls One Call can take care of all your glass repairs. We attend to emergency calls regularly due to break-ins or vehicle mishaps. Sometimes we can replace the glass on the spot, otherwise we will ensure your property is safe and securely hoarded until we can fabricate and install the proper glass and framing.
Emergency hoarding and glass cleanup
Glass and aluminum storefront repair and replacement
Glass awning replacement, leak repair, and cleaning
Sealed units, laminated and tempered glass
Wire mesh fire safety glass
Skylight repairs
Hoarding for Specialty Glass in Upscale Buildings
Even when things are going wrong, a building has to keep operating and serving its residents and patrons. Sometimes repairs involve specialty materials with a significant lead time before they can be replaced. In cases such as this, we strive to keep the area safe, operating, and minimize the negative visual impact. For example …
STEP 1: Clean-up and Hoarding Structure
The first step in hoarding a damaged storefront is to safely remove any glass that's left in the frame and clean up all broken glass from the area.
Once that is completed, a damage assessment can be made of the window framing and and surrounding walls.
Next, we will build a hoarding structure to close the area securely.
STEP 2: Hoarding Construction
There are various construction techniques used to build proper hoarding. We make sure that certain key criteria are maintained:
The structure is safe
The building or area is secure
The hoarding does not cause damage to the surrounding framing
STEP 3: Facade
While most of the time, standard plywood hoarding is acceptable, sometimes aesthetics are also important. In upscale or high traffic buildings, or in situations where repair materials have a lengthy order time, we can cover the plywood and framing.
This can be done with a simple facade made of single colour vinyl, or by applying full colour printed graphics to the hoarding face. This helps to blend in the temporarily hoarded area with the surrounding area, and draws less attention.
It helps your property look and operate seamlessly without the distraction of a boarded up window or storefront.