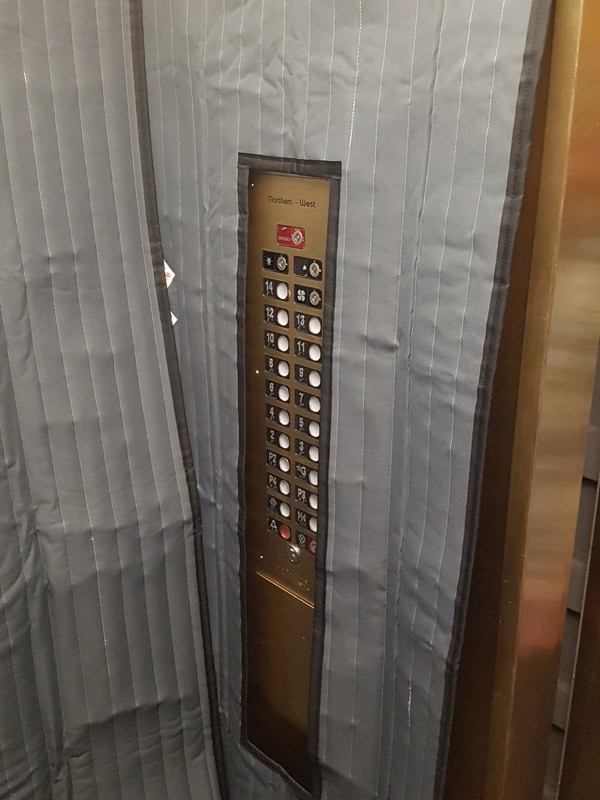 Elevator Pads for Passenger and Freight Elevators
Elevator pads are crucial for protecting your elevator walls from scratches, marks, and other damage when heavy or awkward objects are transported. This is true for all types of wall surfaces such as wood, stainless steel, anodized, or painted.
Our elevator pads are custom fabricated to fit your elevator and come with many great features:
Variety of colours; Forest green, Royal blue, Silver grey, Slate grey, Black, and Burgundy
Sectional design for easier carrying and installation
Quick velcro attachment hangers
Heavy duty nylon webbing borders
Fire retardant material to meet safety codes
Protective Wall Pads
Elevator pad systems can also be used to protect walls in hallways, banquet rooms, and other areas where tables and chairs, or other equipment is frequently moved around.
Beautifully finished walls with wood paneling or wallpaper can be expensive to repair if damaged. And re-organizing a room from one event to the next is often a very fast paced endeavor, creating more opportunity for wall damage to occur.
Protecting your walls is extra insurance to ensure everything goes as planned.
Wall pads are constructed from the same heavy duty materials as our elevator pads. These padding "blankets" can also be used for protecting a variety spaces, and for wrapping all kinds of furniture or other items you want to keep safe from bumps and bruises.
Elevator Floor Mats
Elevator floors are often prone to damage when people are moving in and out of a building. Tile can be chipped, linoleum can be torn, and all surfaces can be permanently scratched or marked up.
Elevator floor mats can be installed temporarily like elevator pads, or left in place full time, making elevator maintenance easier while also protecting the cab floor from damage.
Elevator mats are custom fitted to protect every corner. They feature a heavy duty 1.5″ tapered rubber edging which allows you to roll hand carts over the mat easily, and protects the edges. The mats are constructed of recycled nylon, formed into a heavy duty tufted loop material that stands up to industrial wear and tear.
Some key features of our elevator mats:
Black or Grey, with an assortment of colors for inset logos available
Stay firmly in place while also being removable
Prevent liquids from soaking through to the floor
Easy to wash or vacuum