Garbage enclosures hide unsightly dumpsters and recycling bins from patrons and passers-by. They also inhibit illegal dumping, and are custom built and sized to meet your commercial or strata needs.
Garbage Enclosure Features
Steel or treated lumber framing available – we work with you to fit your budget
Custom built for the number of dumpsters and size of dumpsters you use
All-season cedar siding
Latched or locking doors, and heavy duty hinges
Caged roofs so obnoxious odors are not trapped in the enclosure
Free standing or concrete footings
Nikls Services will work with you to build the right solution and address all your enclosure needs from simple site aesthetics to security requirements.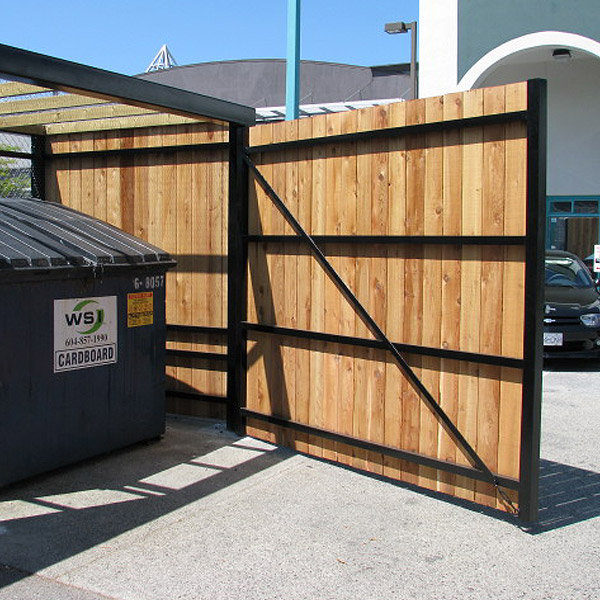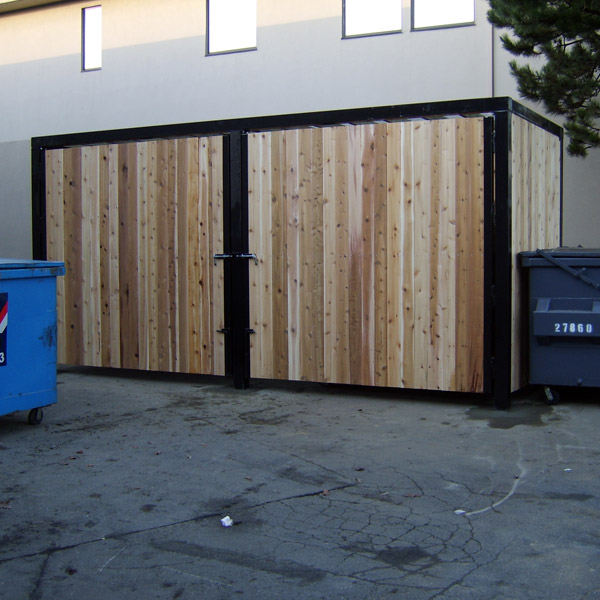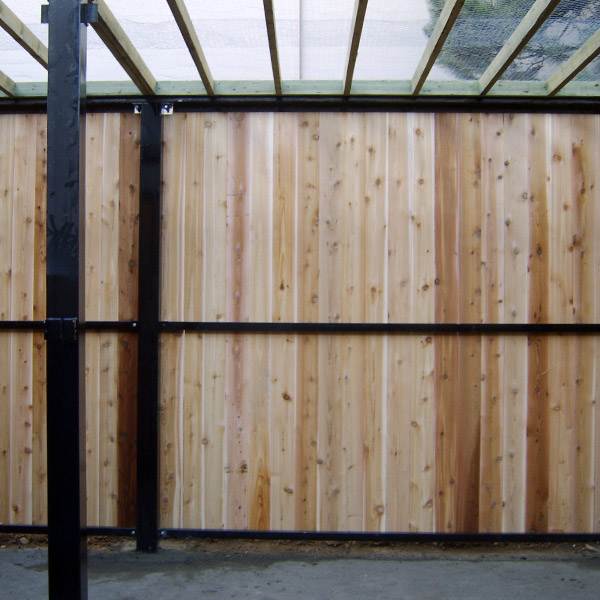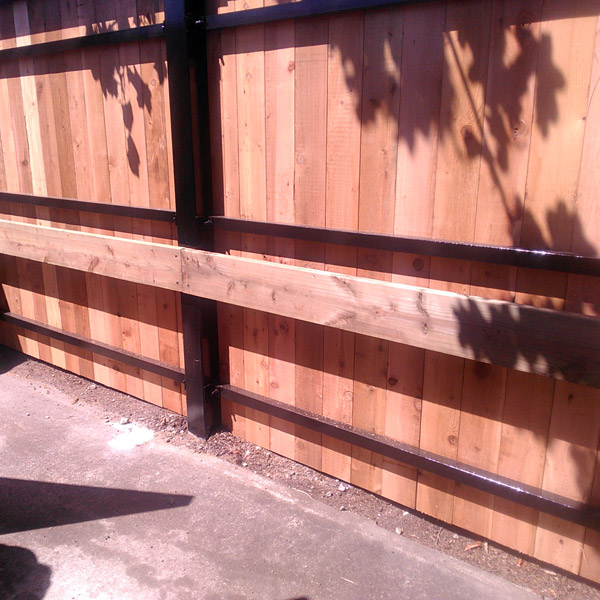 Other Options for Garbage Enclosures & Rooms
In addition to our standard steel-framed garbage enclosures, we can bring you an array of other options that may suit your garbage & recycling space better. We also service and repair metal, wood, and concrete garbage enclosures, and garbage room doors.
Chain Link Fencing Garbage Enclosures
A more cost effective way to keep garbage areas contained is to use chain link fencing for fabrication. Chain link enclosures can also incorporate plastic privacy slats to make the garbage area more discreet.
These types of enclosures are best for defining and containing the garbage area. They don't offer the security or robustness that other materials such as steel bring.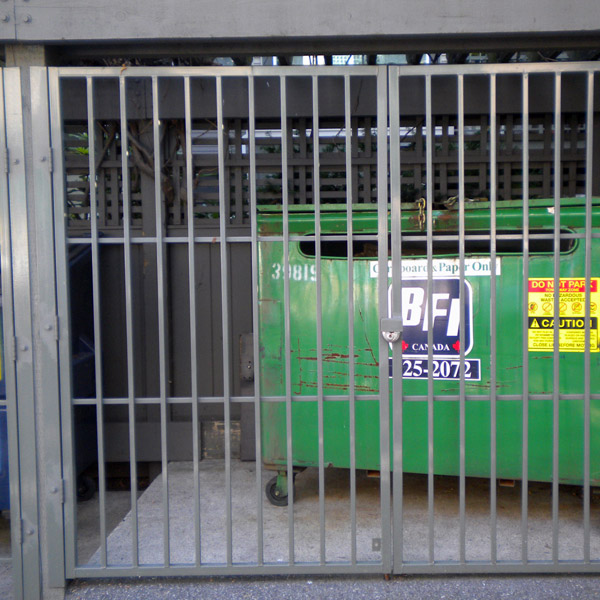 Welded Steel Bar Garbage Enclosures
For alcoves or open garbage areas, steel gates can be added to secure the garbage and recycling area. Secure garbage areas help to stop unauthorized dumping and prevent scavenging which leads to increased cleaning and disposal costs, and opportunistic crime on the property.
Steel bar enclosures offer increased protection over chain link or wood enclosures which are frequently cut or broken into by more aggressive street people.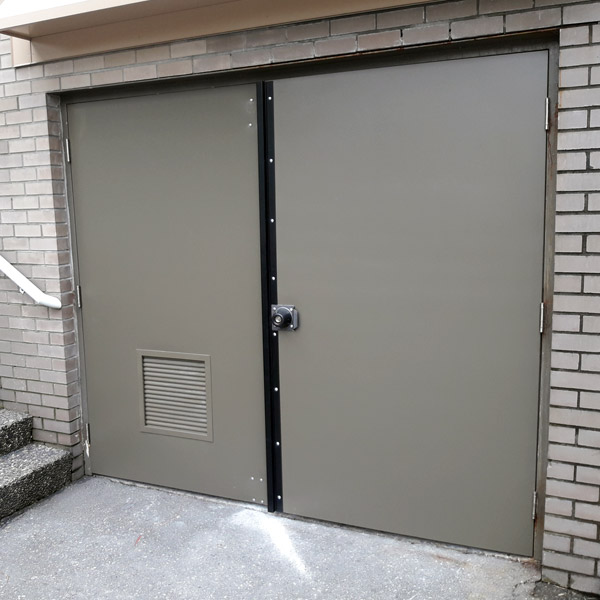 Garbage Room Door Repairs and Replacement
Standard commercial steel doors used for garbage and recycling rooms often take a beating as heavy dumpsters are moved in and out of the room.
We can repair or replace your doors, and add a variety of upgrades as needed:
Welded seams for extra durability
Secure louvered vents
Anti-pry astragals, lock guards, NRP hinges
Heavy duty closers, elephant feet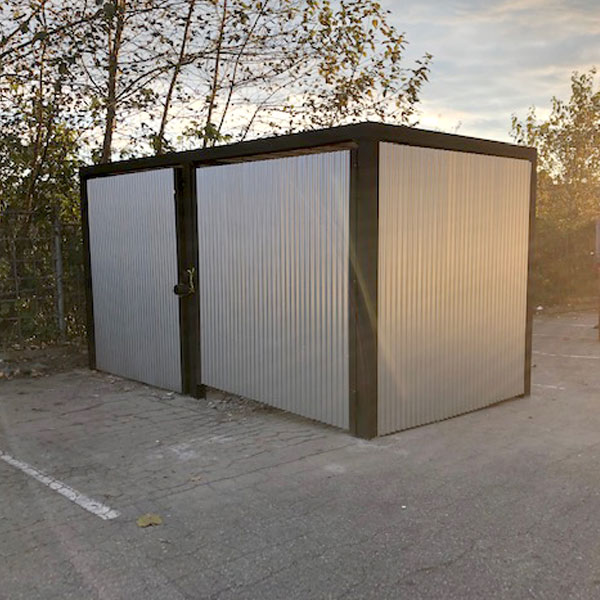 High Security Garbage Enclosures
In some neighborhoods, garbage enclosures are simply broken into on a regular basis. This results in a huge mess of garbage over the parking lot, a broken and bad looking enclosure, as well as other security issues for your property.
To stop unauthorized access we have developed a high security enclosure. It starts with our steel frame set in concrete footings, and then we securely skin it with galvanized corrugated steel. In addition to the steel frame and skin, we add protective shrouds for the padlocks, and can add steel bar roof if needed.
Chain Link Enclosures for Garbage or Storage Areas