Bike racks are often an afterthought for most commercial properties, which leaves "green" minded customers and patrons to lock up their bikes in undesirable locations, or cut short their visits – taking their spending power elsewhere.
Setting up designated bike rack areas helps to bring in those additional customers without straining expensive parking lot space, and without bike commuters having to lug their bikes through stores or lobby areas.
Check our online store at BCSiteService.com for a selection of floor or ground, and wall mounted bike racks.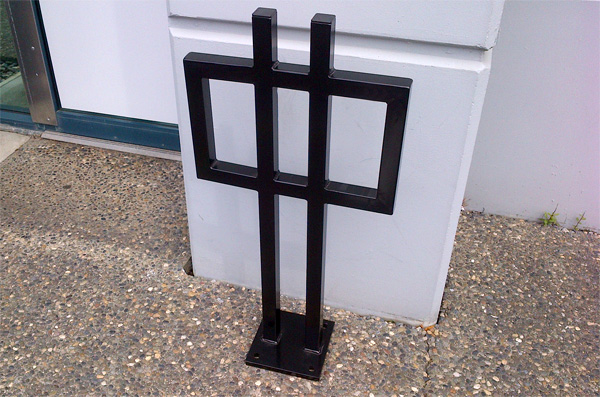 Steel Bike Rack Posts for One or Two Bikes
These bike rack posts can be mounted close to a building side when there is little room available and can accommodate one bike. They can also be installed in a more open area such as the edge of a wide sidewalk or perpendicular to the building to accommodate two bicycles. Powder-coated steel available in a variety of colors available. Posted are bolted securely in place.
18″ wide and 36″ high, weighing 15 lbs each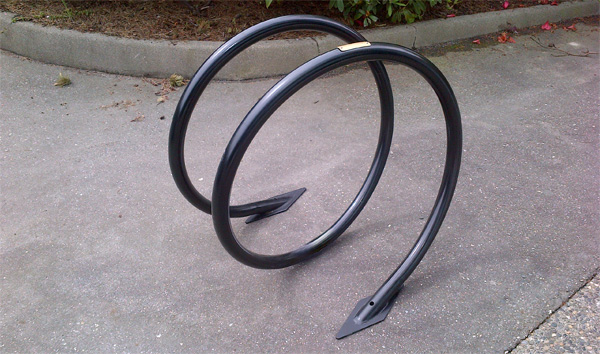 Steel Spiral Bike Racks
Crafted from heavy-duty steel tubing and bolted into place, these racks come in various sizes hold 4, 6, 8, or 10 bikes. This is a popular bike rack design for institutional buildings and commercial properties and is available in various colours.
31″ tall and 30″ wide each, with various lengths (30″, 42″, 54″, 66″)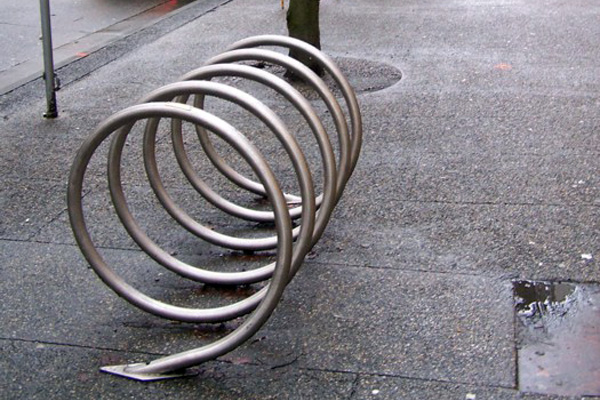 Stainless Steel Spiral Bike Racks
Our stainless steel bike racks are constructed from heavy-duty stainless steel tubing and bolted into place, these racks look great season after season, especially in harsh weather areas that can eventually dull or damage painted steel.
31″ tall and 30″ wide each, with various lengths (30″, 42″, 54″, 66″)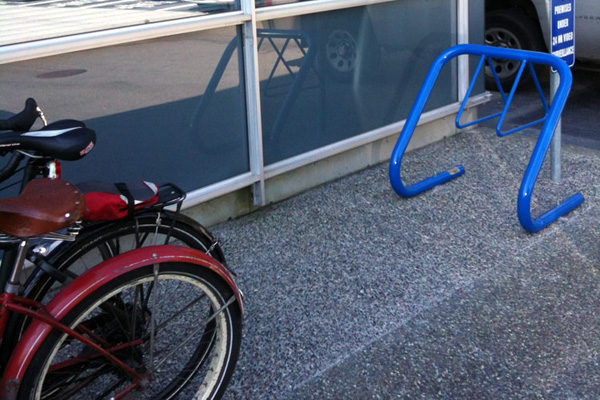 Classic Bike Racks with Wheel Lock
The Classic bike rack is a very versatile design for installation on sidewalks and in courtyards. The Classic bike rack's divider bars can be used to lock the front wheel of bikes along with the frame (important as many bikes have a quick release front wheel).
The Classic bike rack can be installed so both sides of the rack are accessible or against a wall or building with just one side accessible. Available in a variety of powder coated colours for long lasting durability.
34″ tall and 30″ wide each, with various lengths (30″, 39″, 48″, and 75″)
Wall Mounted Bike Racks
Nikls One Call makes a variety of wall mounted bike racks that are great for installation in bike rooms or in tenant parking stalls in underground parkades. Our heavy duty designs feature all welded steel construction and we install bike racks with security bolts and screws to ensure the security of your bikes.
Exterior Mounted Bike Racks
Exterior bike racks for properties are best mounted and anchored to concrete surfaces. If a concrete surface is not available, we can pour concrete footings to create a proper base to anchor your bike rack to.
Concrete footings can be poured where there is asphalt, paving stones, or landscaping. Once the footing have cured (usually a couple days), we can anchor the bike rack to them securely.