Anything metal you find on your property is generally custom built for the property, and sometimes it's much easier to repair onsite than remove it for repair. In addition to our metal fabrication shop, we can do mobile welding repairs. In our shop, we fabricate all kinds of new and replacement pieces for properties.
Our technicians work with steel, stainless steel, and aluminum.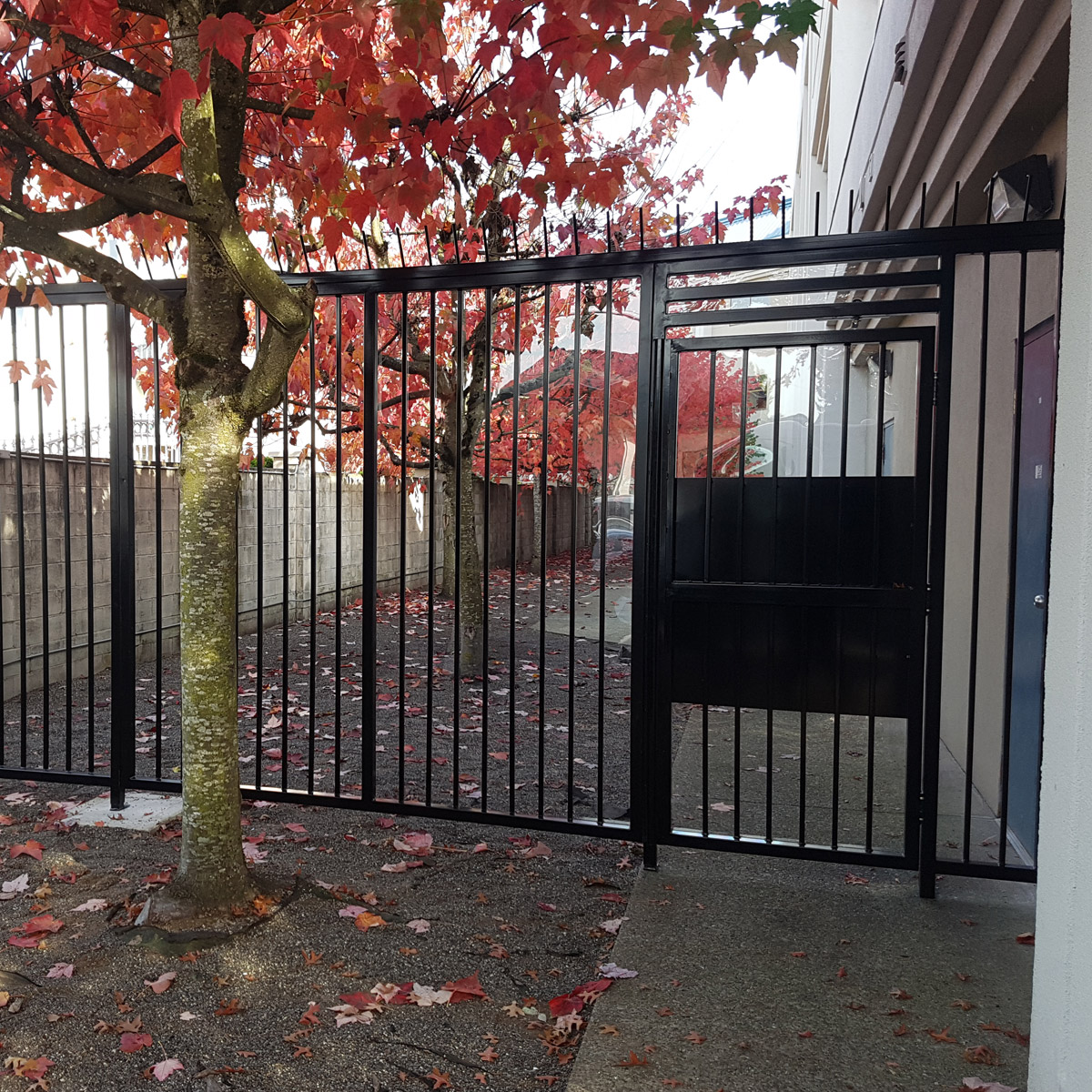 Security Gates and Enclosures
We build all kinds of custom security gates and enclosures to secure your property. They feature all welded steel construction, and we also use perforated steel and lexan as needed for high security installations. We can construct secure gates and entrances that also meet fire exit requirements. Call us for …
Overhead garage door security upgrades
Secure walk-in entrance gates, alcove and stairwell enclosures
Fixture guards and area enclosures
Mailbox Security Enclosures
Mailbox break-ins are a big problem at strata complexes and has become a virtual epidemic in some areas. The best solution is a mailbox enclosure. We make them out of steel with perforated steel walls, NRP hinges, interlocking anti-pry astragals, and heavy duty lock guards.
Our mailbox enclosures features a door-within-a-door design so your mailboxes are always secure. All tenants have a key to open the enclosure, plus their own individual mailbox key. The other enclosure door features Canada Post's crown lock so your mail carrier can access and deliver the mail.
It's a proven design that we custom fit and fabricate to your mailboxes.
Roof Access Ladders
Whether interior or exterior, we fabricate and install roof access ladders that feature secure access and safety cages. Every access ladder is custom built to fit your building while meeting regulatory requirements for safety and security.
We will also retrofit or rebuild roof ladders that do not meet current standards such as adding a safety cage or adding railings on the roof edge at the access point.
Railing Repairs
Railings come in all sorts of styles and materials, and every installation is custom designed to fit the space. Call us for railing repairs, to add railing anti-skateboard guards, or to build a new railing to protect a specific area.
If the concrete footing, stairway, or pony wall is also damaged, we will repair the concrete or fabricate mounting brackets that cover the damaged concrete so your railing is installed securely.
Once repaired, we will colour match and touch-up or paint the railing as needed to get it looking like new again.
Garage Gate Repairs
Our mobile welding techs can repair your aluminum overhead garage gates following a vehicle hit or if vandalized due to a break-in. If the gate is badly damaged, we can often straighten it enough to get it running temporarily until a new gate can be ordered and installed.
In addition to general repairs, we can help you with;
Roller track and photo-eye guards to prevent tampering or vehicle hits
Security upgrades to prevent easy break-ins
Maximum clearance bars and signage
Building Equipment Safety Guards and Enclosures
As safety standards for building equipment evolves, so does the need for safety guards and safety enclosures to ensure worker safety around this equipment. We can help you meet your RiskCheck requirements by fabricating and installing custom guards and enclosures for existing building equipment.
Some of the building equipment we help make safe includes;
Elevator motor rooms
Ventilation fans and belt assemblies
Parkade air exhaust chambers
Overhead gate tracks
Pump rooms
Other Metal Fabrication Products
We make all sorts of standard and semi-custom products for your property. Some of the things we fabricate and install include:
Traffic barrier swing gates
Bollards and removable bollards
Corner guards
Steel and Stainless steel astragals
Continuous trench drain grates
Metal framed garbage enclosures
Heavy Duty Mobile Welding Repairs
In addition to the standard portable MIG welders our service techs carry for smaller repairs, we also have the tools to take care of heavier duty repairs in the field. Thicker steel and heavier installations require more power to burn in a proper weld.
Our Bobcat engine powered 250 Amp welders allow us to perform strong and reliable repairs on thick steel installations where the welds must hold up under significant weight or stress. And our welding truck can be deployed to site to make repairs on structures that are too large or impractical to remove and deliver to a shop for repair.
Metal Fabrication and Installation Onsite
Our mobile welding capabilities create a lot of flexibility when it comes to fabrication and installation onsite. It allows us pre-fabricate larger projects in sections in our shop, and then assemble onsite in a way that's much stronger than "bolt together" designs.
Using steel, stainless steel, and aluminum, mobile fabrication and welding allows us to do final fitting onsite to ensure the best results, aesthetically and functionally. Cutting, grinding, welding, prepping, and painting onsite is sometimes the only option, and sometimes it's just the best option.
Rust Inhibitor & Restoration Process
General maintenance of your outdoor steel structures such as stairways and ramps extends their safe operating life. Left unchecked, rust can take hold and destroy the structural integrity of these building amenities. Simply re-painting them is not enough to stop deep rooted rust, and sand blasting installed building features is often cost prohibitive.
But materials science has come a long way. And there is a better solution that can preserve your steel staircases and fixtures by chemically changing the rust with high grade rust inhibitor. Here is our process:
Grind off excess rust and scale
Prep and clean
Apply rust inhibitor, allow 24 hours to cure (but can be walked on within a couple hours)
Paint
The rust inhibitor we apply reacts with the metal and converts the iron oxide (rust) to stabilized magnetite. It also acts as a sealer and primer
Before
After