Prevent costly electrical problems and shut-downs before they happen.
Infrared electrical inspections identify hot spots caused by bad connections and worn out electrical components.
It is an important preventative maintenance check and the best way to prevent potential fire hazards, loss of service, and intermittent electrical anomolies.
Regular infrared inspections make it possible to conduct maintenance and corrective actions before critical failures occur and may also help you reduce the insurance premiums for your property.
Detailed Electrical Inspections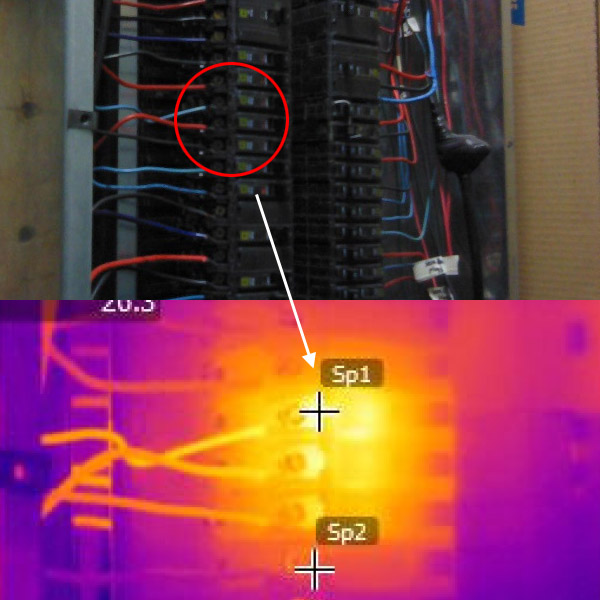 To conduct an IR electrical inspection, we require access to all electrical rooms and other areas where electrical panels are present.
Some of the items we inspect include;
Breakers and fuses
Disconnects, switches, and contactors
Transformers
Wiring connections
In conjunction with the scan, our certified electricians do a visual inspection of all systems and perform current draw tests. This serves to verify the scanner findings and determine other electro-mechanical problems that may be present.
Inspection Report and Repair Recommendations
You will receive a complete inspection report with photos and thermo-graphic images that define the condition of each piece of equipment. The infrared inspection report will include the following information:
Explanation of test procedures & priority levels
Identify each problem found, with photos
Identify the suggested priority for repair, which are;

Priority 1 – Critical / Safety /Hazardous issues
Priority 2 – Typical overheating to be monitored and repaired as soon as possible
Priority 3 – The beginning of an electrical fault to be monitored and addressed in the future

Recommend repair solutions for each issue identified
Contact Nikls One Call today to schedule an infrared inspection of your building's electrical gear!
Examples of Infrared Inspection Issues Found
Switch and Fuse Hardware
Disconnect Switch
Wiring Connection
Pump Contactor Overload
Circuit Breaker
Circuit Breaker Connection
Lighting Contactor
Electrical Disconnect