Having the correct tools to get the job done is one of our primary focuses. Working on commercial properties, both inside and outside, demands having the ability to access heights of 40 or 50 feet safely. This is doubly important when there is an emergency and you need high-reach equipment to attend now.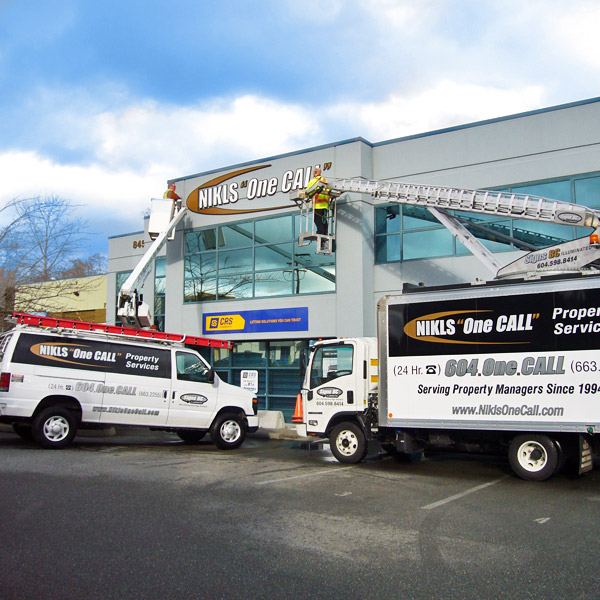 Bucket Truck Services
Nikls One Call has 2 bucket trucks with a maximum reach of 48ft. Our operators are licensed electricians and certified technicians. We utilize our bucket trucks for:
Servicing light pole standards and building wall pack lighting
Pylon signs, commercial building address signage and sign boxes
Exterior building repairs requiring lift access such as for flashing or gutters
Awning cleaning and pressure washing
Installing bird spikes
Vertical Lift for Interior Lighting Repairs
Vertical manlifts are especially useful for high reach interior repairs. Our 40 ft vertical lift fits through a standard doorway and can be used to access virtually any high reach area indoors. It can also be used outdoors where space is limited and can not be accessed with a bucket truck. We use our vertical lifts for:
Servicing high ceiling mounted lighting and chandeliers
Vaulted ceiling repairs
High fixture cleaning and maintenance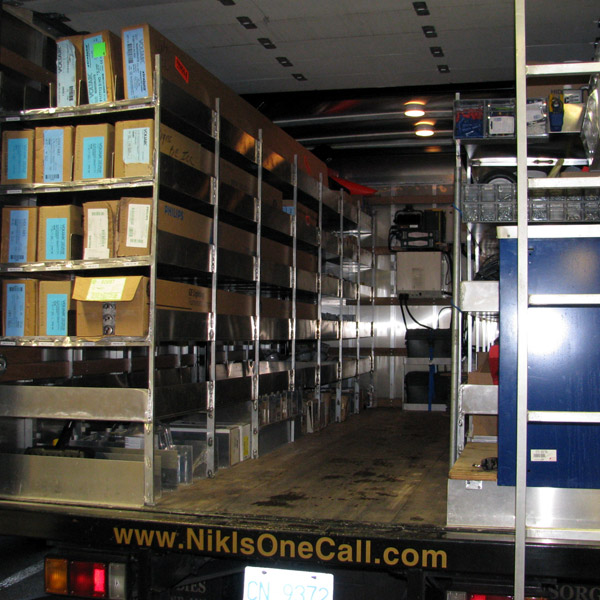 Mobile Lighting Service Warehouse
Efficiency is important when it comes to common maintenance tasks such as servicing property lighting. Our bucket trucks are packed with everything we need to service your property including, lamps, ballasts, sockets, and other electrical supplies.
We also offer quarterly lighting service for commercial properties. Once you're on the list, we will automatically attend to your property and replace any lamps or ballasts as needed and check your lighting controls. If there are additional maintenance issues such as a fixture or control needing replacement, we will advise you and recommend the best repair solution.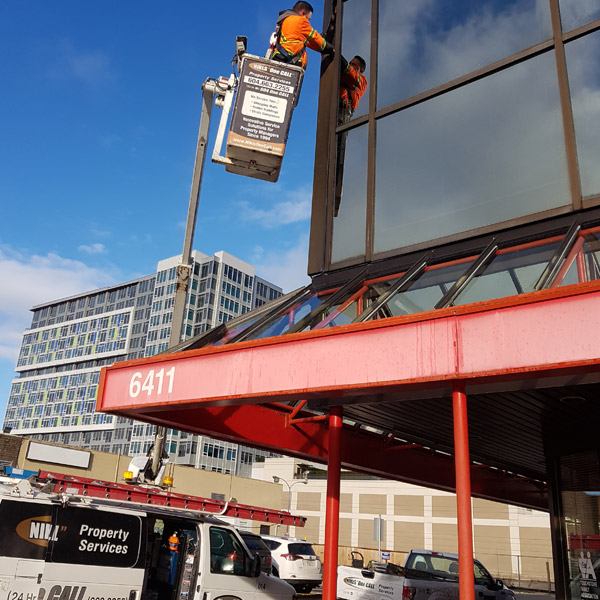 Other Bucket Truck Services
Installation of bird spikes on lighting, building edges, overhead piping, and tall signage.
Accessibility to clean pylon signs, storefront signs, and glass awnings.
High building-side repairs all sorts including window frame leaks and damage to flashing, gutters, and awnings.